Villas In Rio de Janeiro
Found 3 holiday rentals in Rio de Janeiro.
Brazil
>
South East Brazil
>
Rio de Janeiro
>
Buzios
>
Regiao dos Lagos
> Casa do Canto
Located about 100 miles from the city of Rio, we are situated in the heart of Buzios . Breakfast every morning of fresh tropical fruits and fresh-squeezed juices, fresh baked Brazilian cheese bread and Brazilian coffee.
Brazil
>
South East Brazil
>
Rio de Janeiro
>
Copacabana
> Copacabana Beach
Beautiful apartment located RIGHT ON COPCABANA BEACH. And only 5 minutes to IPANEMA. Very close to all the shoppings, restaurants and attractions. We offer SPECIAL DISCOUNT RATE FOR LONG STAYS,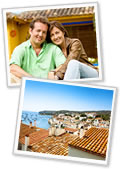 Advertise your property on this page
Be the first property to be listed on this page - instant online activation.
Click here to register >
Testimonial
"I've just got my first booking through Alpha Holiday Lettings. I really like this site - it has big photos, is clear, easy to use and Tom is very helpful. I look forward to many more bookings with you!"
Maureen McCowen, Property 11214