Villas In Sharm El Sheikh
Located on the tip of Sinai, Sharm El Sheikh is a vibrant resort with lots to do and an excellent choice of bars and restaurants. That being said, self catering apartments and self catering villas are perfect holiday accommodation idea, which will allow you to taste the real Egypt. Sharm El Sheikh apartments and Sharm El Sheikh villas are location in and around excellent resorts so you will not be total secluded.
Found 1 holiday rentals in Sharm El Sheikh.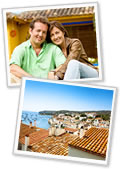 Advertise your property on this page
Be the first property to be listed on this page - instant online activation.
Click here to register >
Testimonial
"I've just got my first booking through Alpha Holiday Lettings. I really like this site - it has big photos, is clear, easy to use and Tom is very helpful. I look forward to many more bookings with you!"
Maureen McCowen, Property 11214