Villas In Dordogne
Found 2 holiday rentals in Dordogne.
France
>
Aquitaine / Dordogne
>
Dordogne
> Thiviers
Domaine le Bost, with 6 self catering apartments and one chambre d'hote and its eight-acre garden, is located just outside the picturesque, medieval town of Thiviers, which can be enjoyed directly from your garden chair.
France
>
Aquitaine / Dordogne
>
Dordogne
> Thiviers
With three bedrooms and a comfortable and inviting living room, this gîte is spacious enough to accommodate 6 people. A sizeable kitchen is equipped with all of the essentials. All rooms are at street level, while the balcony offers magnificent views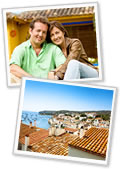 Advertise your property on this page
Be the first property to be listed on this page - instant online activation.
Click here to register >
Testimonial
"I've just got my first booking through Alpha Holiday Lettings. I really like this site - it has big photos, is clear, easy to use and Tom is very helpful. I look forward to many more bookings with you!"
Maureen McCowen, Property 11214