Villas In Cavelossim
Found 1 holiday rentals in Cavelossim.
India
>
Goa / West India
>
Goa
>
Cavelossim
>
Luisa by the Sea
This lovely house is our second home and has therefore been extremely well furnished to a high standard with a mix of modern, antique Indian and Colonial furniture. The rooms are all spacious each with balcony and all bedrooms have en suite bathroom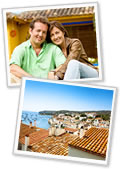 Advertise your property on this page
Be the first property to be listed on this page - instant online activation.
Click here to register >
Testimonial
"I've just got my first booking through Alpha Holiday Lettings. I really like this site - it has big photos, is clear, easy to use and Tom is very helpful. I look forward to many more bookings with you!"
Maureen McCowen, Property 11214