Villas In Fonte Santa
Found 1 holiday rentals in Fonte Santa.
Portugal
>
Algarve
>
Central Algarve
>
Quarteira
>
Fonte Santa
> Al-Sakia
A beautiful residential complex located between the popular Vale do Lobo and Vilamoura Golf Resorts, Al Sakia Village offers a full range of facilities as well as easy access to the beaches, (2kms away), golf courses, (Vila Sol 0,5kms away)...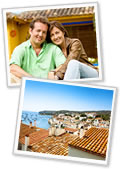 Advertise your property on this page
Be the first property to be listed on this page - instant online activation.
Click here to register >
Testimonial
"I've just got my first booking through Alpha Holiday Lettings. I really like this site - it has big photos, is clear, easy to use and Tom is very helpful. I look forward to many more bookings with you!"
Maureen McCowen, Property 11214