Villas In Foz do Arelho
Found 3 holiday rentals in Foz do Arelho.
Portugal
>
Costa de Prata / Silver Coast
>
Foz do Arelho
> Foz do Arelho
Luxury Silver Coast villa for discerning and demanding users, seeking the most privileged holiday homes. Very private, the villa is completed turned to the sun and the 180º majestic views of Obidos Lagoon and the Sea. Every detail was performed to the most exclusive luxury relax and the villa is often elected by media, to promote the Silver Coast. Providing excellent accommodation for 11, Casa do Lago is the tranquil perfect base to explore the region, or just to soak up te sun.
Portugal
>
Costa de Prata / Silver Coast
>
Foz do Arelho
>
Nadadouro
> Caldas Da Rainha
Fora da Caixa holiday home is set on the Silver Coast of Portugal and overlooks the Obidos Lagoon. Situated in an area of natural beauty with great historical and cultural heritage, the house is just minutes away from fantastic white, sandy beaches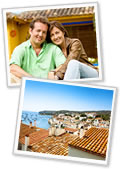 Advertise your property on this page
Be the first property to be listed on this page - instant online activation.
Click here to register >
Testimonial
"I've just got my first booking through Alpha Holiday Lettings. I really like this site - it has big photos, is clear, easy to use and Tom is very helpful. I look forward to many more bookings with you!"
Maureen McCowen, Property 11214