Villas in Poland
Poland is simply a pleasure to explore - it is filled with medieval castles, log cabins, urban cities, heart-warming food and an utterly beautiful collection of woods, lakes, rivers and hills. If you want to indulge in Poland's medieval side then head to Krakow or Gdansk - while if you want to get to grips with Poland's urban-edge then make your way to Warsaw.
Read more
Results for holiday rentals in Poland
Found 3 holiday lettings in Poland.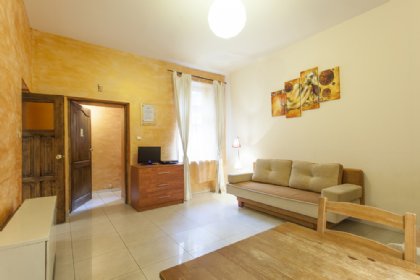 Property ID: 122936
The basic asset of the apartment is its excellent location - the highlights of the city can be reached on foot within a few minutes. The flat is in the Old Town near Planty (the belt of greenery surrounding the historical part of the city) beside the Slowacki theater close to the railway station. Despite its central location the apartment is the oasis of peace. The entrance door opens onto the hall with a big wardrobe, which leads to the living/sleeping room where you can find two comfortable double sofas. The kitchenette, designed in the corner part of the room, goes well with the interior decor and gives the impression of a separate kitchen. The flat is furnished in a simple and functional way. The distinctive feature is the wooden doors
Property ID: 122943
This cozy studio is located in the annexe building so that there is here blissful silence. And his position on the ground attracts people comfortable.
Property ID: 122942
Do you want to effectively explore Krakow? You can not miss a single important place! Book a stay at the apartment Classic II (30 m2) in order to find close to all the great sights and venues! Planning a trip with a large group of your friends? I just could not get better! Accesses to choose from three classic apartments located in the same building on one of the gwnych streets in Krakow - Dietl - from which you're just a stone's throw to the Castle, a few hundred meters from Krakow's Market Square and Kazimierz. However, on the same street, just after removal from the apartment, the same nose you have available a dozen exciting venues where you can eat or have a good time. Visit the wegetariaskiego bar, and cover the new wealth of vegetabl
More about finding holiday accommodation in Poland
If you start your journey to Poland in the capital - then first take in the glittering skyscrapers that rub shoulders with grey communist-era office blocks and flats, then head north of the centre to explore the reconstructed (sadly much of it was flattened during WWII) Old Town and the pretty baroque palaces. The more enticing option of Kraków is especially appealing to history buffs. It's a treasure trove of overlapping architectural styles - with Gothic and Renaissance architecture taking centre stage. Follow the history trail taking in the Old Town's Gothic churches and the huge market square (Rynek Glówny),then take a look at the old Jewish quarter and finish up with a tour to Auschwitz. Afterwards simply lose yourself in one of Kraków's narrow alleyways and stumble into a more modern diversion in the form of a crammed restaurant, chic bars or a trendy music club. When the time comes to head out of the city - take a trip to Zakopane in the foothills of the Tatra Mountains. It's especially beautiful in winter months - when snow tops the mountain peaks and the ski resorts hit full flow - though it's equally wonderful in the summer and perfect for hiking. Back To Top