Travel Features
New York City Breaks - Tips & Tricks To Make Your Trip Easier
New York is one of the most visited cities in the world right now, welcoming approximately 60+ million people annually in recent years alone. The five boroughs making up New York are a global wonder for domestic and international visitors, all coming to experience the renowned destination that is NYC and the Big Apple is guaranteed to steal your heart. Whether it's your first or fifth time visiting here are a few mentions that might make your trip a little easier.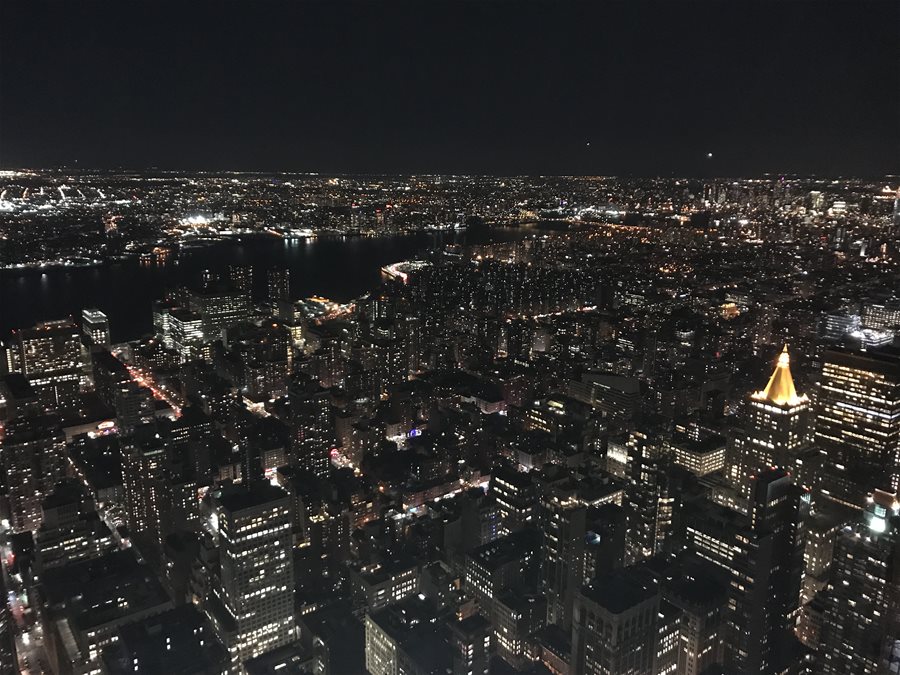 Empire State Observation Deck at night
Time to visit
Flights and accommodation to NYC around January, February can be very affordable, due to it being straight after Christmas and New Year, which is one of the most expensive times of year to visit New York so in a lot of cases hotel prices and flights are reduced.
New York generally isn't cheap so after toying with various dates throughout the year, flights and accommodation prices both separate and as a package deal were totaling £1,000+ but after some digging and narrowing the search to around Jan/Feb prices reduced by around £400 give or take and in the end got a great price for 5 nights in a 4 star hotel right on Time Square.
Empire State VS Top of the Rock
The Empire State Buildings and the Top of the Rock Observation Deck are two of the best place to see the city from above. If visiting both is on the agenda then definitely do one during daytime and one when its dark, that way you get the best of both worlds and or course the picture proof to share on social media.
It doesn't really matter which attraction you visit at which time because believe me, each offer equally amazing views across New York City, some people do suggest Top of the Rock during the evening/night so you can catch the Empire State lit up, but it's completely down to personal preference, either way the views from both will honestly not disappoint.
Empire State Building
Top of the Rock Observation Deck
CityPass
Throughout planning and preparing for a recent trip to New York one of the most repeated recommendations before departure was getting the 'CityPass' essentially a bulk buy option for attractions, landmarks and museums. In more detail, you pay a one off price ADULT £91.59 | CHILD £73.57 through the official website and this covers six of New York most famous and popular tourist spots.
The CityPass is 110% great value for money, things in New York can add up pretty quickly so not paying at every individual attraction was just a breeze, plus you also avoid queuing. The pass is hassle free and you can either use the print out confirmation, ticket booklet or mobile.
The pass offers three mandatory attractions which include The Empire State Building, American Museum of Natural History and The Metropolitan Museum of Art, then remaining three are an options of two, for example:
Top of the Rock Observation Deck OR Guggenheim Museum
Statue of Liberty & Ellis Island OR Circle Line Sightseeing Cruises
9/11 Memorial & Museum OR Intrepid Sea, Air & Space Museum
Yellow Taxis
As iconic as they may be, grabbing a yellow taxi in New York is pretty much pointless, especially in the more concentrated parts of the city like Manhattan. More often than not expect to be sat in stand still traffic while the meter increases. Yellow taxis from JFK Airport work on a flat rate basis depending whereabouts your travelling - JFK to Time Square worked out around $70 including toll and tax.
If you do find yourself needing a taxi try to avoid 4-6pm due to shift changes, the number of cars goes down by a third.
Food + Drinks
Much like many major city destinations food and drink in New York is expensive, however like anywhere you vacation there will always dining, drinking options to suit every budget. As brief example two glasses of wine from hotel bar can work out around $40 whereas cocktails can work out around $20 each from a nice restaurant. As most will understand if you plan to dine somewhere nice you will already have an idea of whether food and drink will set you back.
If you are working on a more budget type trip then street vendors are a great cheaper alternative to grab a bite to eat and New York isn't short of them. With hundreds on every corner ranging from American, Greek, Turkish, light snacks, drinks, nuts, pretzels, etc... the proper way to eat in the city.
Subway Travel
Once you get the hang of what's what using the subway to get around New York is so convenient, a quick way to get around and pretty cheap. The subway will just about get you everywhere and will save you on all the walking, no matter if you visiting for 3 days, 7 days or a few weeks you can get subway transport passes to suit any duration.
A 5 or 7 day pass is around $20 and can be used as many time as you wish from the day of purchase. The easiest way to get a pass is via the self help machines, which can be found at every stop and then from there it works much like an oyster card. You can also purchase a subway pass from a the larger station such as Penn Station where there are also kiosks where you can speak to someone if need be.
Museums
New York is home to many museums so when visiting the city why not top up on a little world culture and history. One thing many people don't know about the New York museum scene especially visitors and tourists is that many work on a "pay what you want basis" literally meaning that any donation small or large are welcome. Here is a quick list of the museums which all operate on a pay what you wish entrance fee system, every single day.


The Metropolitan Museum of Art


The Cloisters


Socrates Sculpture Park


The American Museum of Natural History


The Bronx Museum of Arts


The Brooklyn Museum


American Museum of Natural History
Brooklyn
For an iconic view of the Manhattan skyline then Brooklyn is where you need to go! Walking over Brooklyn Bridge from Manhattan is the perfect way to get from one neighbourhood to another. Brooklyn Bridge itself is full of photo opportunities as well as fantastic views along the way.
Off the bridge definitely head down Washington Street for one of New York's most instagrammable shots, then from there that immediate area boasts the best views of Brooklyn Bridge with the Hudson River and Manhattan in the background, a personal highlight. Early evening around sunset also adds the wow factor.
View of the Manhattan skyline & Brooklyn Bridge
Washington St. DUMBO, Brooklyn
Broadway Tickets
Going to see a Broadway show is practically a right of passage when visiting the Big Apple, with shows running year round with everything from the old classics, our favourite novels and contemporary newcomers, the bright lights of Broadway are a must.
There are many ways to obtain theater tickets and ticket prices do vary depending on which show you want to see and where you want to sit. If you are well planned and already know what production you want to see then booking as early as possible is often advised, this way you avoid disappointment and get exactly what you want.
On the other hand if you are flexible and just want the Broadway experience you can head to the TKT booth in Time Square for discounted theatre tickets for the same day, however expect queues.
Escape the typical neighbourhoods
It's almost like people forget how huge New York City is. More often than not visitors to the city will only ever stay and explore the typical neighbourhoods such as Manhattan, Midtown and Upper East & West Side. Like the locals will tell you, you NEED to be visiting places like Harlem, Greenwich Village, Little Italy, Chinatown and Lower Manhattan.
These neighbourhoods boast the best diners, international cuisines, jazz basements, independent shops and that quirky Instagram shot. Although not completely tourist free they are less touristy than the others. While your at it why not head across the river and catch an Ice Hockey game in New Jersey.