Villas In La Manga Del Mar Menor
Found 5 holiday rentals in La Manga Del Mar Menor.
Spain
>
Costa Calida / Murcia
>
La Manga Del Mar Menor
>
Mar De Cristal
South Facing, 10 minutes stroll to beach and two supermarkets. Splendid views over farmland towards hills. Full air conditioning. Communal Pool. Great area for families relaxing and all sports persons. Only 20 minutes drive from Murcia Airport.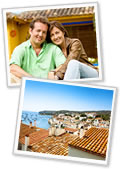 Advertise your property on this page
Be the first property to be listed on this page - instant online activation.
Click here to register >
Testimonial
"I've just got my first booking through Alpha Holiday Lettings. I really like this site - it has big photos, is clear, easy to use and Tom is very helpful. I look forward to many more bookings with you!"
Maureen McCowen, Property 11214