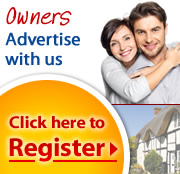 Featured Holiday Rentals
Whether you are choosing a holiday rental property or considering advertising with us, we are here to assist.


Villas In Italy - A selection of Italy holiday rentals
More about Italy holiday rentals
One of the most Romantic countries to visit, located in the centre of the Mediterranean coast is Italy. With a mild climate, stunning scenery, beautiful ancient architecture and amazing cuisines. It has a mixture of self catering accommodation like villas, apartments, farmhouses, B&Bs and cottages.

City destinations in Italy include Rome which a true gem of magnificent beauty and culture and is known sometimes as the City of Gods. Other cities like Florence, Venice and Milan have great shopping advantages also with some amazing restaurants to tuck into. You will find perfect vacation apartments to suit both romantic and adventure trips.

If Italian rural country is more suited to you then Tuscany and Naples are the places for you. The peaceful, picturesque , rolling hills has a mild climate and very nice feature property Villas, Farmhouses and cottages. Pleasant for a relaxing self catering holiday vacation.

In Lombardy and the North West region are homes to Lake Como, Lake Garda, Lake Maggiore and Lake Orta making this a very popular destination for tourist who travel to visit the Lakes take part in water sports, walking, hiking and Lake cruises or simply to absorb the nature and beauty. Holiday rental in Italy and around this area have some of the best views of the Lakes and surrounding areas which it what appeals to travellers and holiday makers.

Southern Italy holiday rental locations include Calabria, Scilly and Sardinia are also other popular vacation rental areas. Scilly and Sardina are consider to two major islands of Southern Italy, although most people go to Northern Italy is your prefer a quieter lifestyle heading South may not be a bad idea.