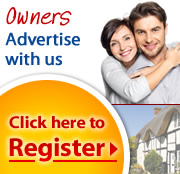 Featured Holiday Rentals
Whether you are choosing a holiday rental property or considering advertising with us, we are here to assist.


A selection of Brazil holiday rentals
More about Brazil holiday rentals
Brazil is the largest country in South America. Well known for its carnival spirit and passionate people. This is the decade for Brazil as it is going to host the FIFA World Cup in 2014 and also the Olympic Games in 2016.

The most well known tourist destination in Brazil is Rio de Janeiro, one can argue that this is the most colourful city on the earth. Rio de Janeiro is the most visited city in the southern hemisphere and boasts its natural setting and carnival celebrations. As well as its stunning beaches including Copacabana beach and some of the most famous landmarks such as Christ the Redeemer (known to be one of the seven wonders of the world), which overlooks the whole city. Self catering Apartments, B&Bs and Villas can all be found around the city, with plenty of access to tourism hotspots and facilities.

Other Brazilian locations like Sao Paulo, Rio de Grande Norte are also great locations for tourist if you fancy something different. Brazil is also home to the Amazon rainforest - the lungs of the earth.