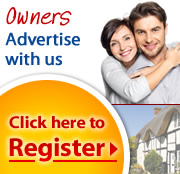 Featured Holiday Rentals
Whether you are choosing a holiday rental property or considering advertising with us, we are here to assist.


A selection of India holiday rentals
More about India holiday rentals
India is set in South Asia with an inhabitants of 1.2 billion people and is sheltered by the Indian Ocean. With many historical trades and was empires such as the Taj Mahal with was built in honour of the emperor's third wife. The capital city of India is New Delhi. India has diverse, welcoming culture and is very popular amongst tourist and travellers. There are many self catering apartments in India to rent.

Goa, West India is a small, charming seaside town set off the Arabian Sea. Known for its very hot climate yet relaxing atmosphere. Influenced by Indian, Islamic and Portuguese styles it has become ever so more popular with tourist and holiday makers. Local sports like cricket are very popular and well liked around this area and the annual Goan Carnival that takes place in February all about dancing and feasting. Goa has some extraordinary, luxury villas to offer for the perfect private holiday rental experience, most come with private gardens and pools. If you prefer the less luxury style then there are also a selection of comfortable, stylish apartments in India. All Indian rental villas can be found in Goa and in regions like Anjuna, Calangute, Candolim, Quepem and Benaulim.

Another popular resort with tourists and holiday makers is Kerela and regions in Kerela like Kovalam, Kochi Cochin, Kannur, Cherplassery and Alleppey Kumarakom. With long shorelines, vast wildlife, magnificent waterfalls, great arts this is a peaceful, pristine paradise. Lovely Indian villas and apartments in India.