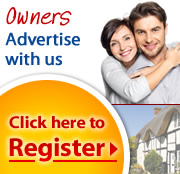 Featured Holiday Rentals
Whether you are choosing a holiday rental property or considering advertising with us, we are here to assist.


A selection of Morocco holiday rentals
More about Morocco holiday rentals
Coasts, mountains and deserts are what Morocco outstanding. The traditional lifestyle and Moroccan activities make this an appealing holiday and tourist destination. Hiking, Camel rides, shopping and exploring the local markets or Souks are some of the vast variety of things to do here, with lots more to discover.

Marrakech is one of the more popular regions in Morocco and is home to luxury stores, tea rooms, cafes. Full of life and enthusiasm with plenty of picturesque souvenirs. Riads are common for self catering accommodation in Morocco but apartments and villas are available too. Many Villas offer private pools and privacy away from the busy markets and town but are still close enough to visit. Morocco is a hot spot destination to travellers and backpackers.

Agadir is another region in Morocco and is known seaside features with the sun, sea and sand. With around 300 days of sunshine and long stretches of beach. The Marina and port are must visit places as they are always thriving.

Fez is known to be the medieval capital of Morocco and has some of the best city preservations in the Arab World and is also a car free urban zone. Travellers and tourists will have the luxury of see traditional methods of transporting goods such as donkeys and carriages. There are plenty of self catering accommodation to chose from including hotels to suit all budgets, Riads, apartments and hostels. The self catering aspects suits backpackers and travellers well and offer flexibility to search Morocco's hidden treasures.