Villas in Greece
Greece has long be a favourite family holiday destination for British holiday makers. The hot climate, beach resorts and affordable prices over there is its appeal. There are many self catering options to choose from in this Mediterranean destination, and the Greek islands have some stunning accommodation for truly memorable villa holidays in Greece. Read more
Results for holiday rentals in Greece
Found 7 holiday lettings in Greece.
The traditional-style lodging house Nafsika Villas provides spacious Samos Apartments, Maisonettes and Studios for rent all with exquisite views of Kerveli Bay, ensuring carefree and relaxing moments during your stay.With a beautifull Private Beach.
There are 6 bedrooms in St. Nicholas house & apart. and all of them are festooned in marvellous ways. The total accommodation capacity of this villa is 13 and the availability of 4 excellent bathrooms will give you much convenience.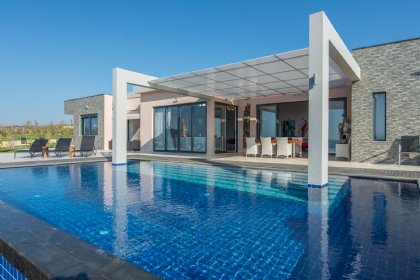 Property ID: 140060
The Villa is a new private luxury five bedroom villa with infinity pool, panoramic sea views overlooking the bay of Kalathas with its fantastic sunsets. Set in its own 4000 square meter plot with a mix of landscaped gardens and olive trees and a preserved land in front, it gives the perfect surroundings for a quiet holiday with built in luxury.

Property ID: 138049
The villa has 180 degrees bay views, spacious terraces, a large infinity edged swimming pool and spa with a pergola-covered outdoor dining area, huge dining table, two large built in seating areas as well as a tradtional island hearth oven, BBQ and comfortable sun beds.
The four downstairs apartments and ten air-conditioned studios are set in lovely grounds ideally situated near the centre of Roda. Just 50 metres along a quiet lane and close to all the amenities that this fabulous village has to offer.
The rentable Studios "Summer Breeze" are located in the most beautiful area of Ilia's County, in the picturesque village named Kakovatos, in an ideal location few minutes away on foot from the huge sandy beach of the village.
Property ID: 140117
This unique six bedroom luxury villa is only available for rent for the months of July and August. Its west facing pool and terraces enable guests to enjoy sea-views and amazing sunsets. Set in its own grounds guests can relax by the pool, take a walk to the beach or explore Western Crete.
More about finding holiday accommodation in Greece
Crete is a region in Greece and known to be one of the more popular ones. With sandy beaches, rocky bays and a great night life its far to safe Crete has everything. Chania in Crete is the favourite for self catering accommodation with rustic apartments and modern villas there is holiday rental for everyone.

Other regions in Greece are the Aegean Islands which are home to islands like Kos, Rhodes and Santorini. If you prefer the quieter life and relaxation then places like Santorini are more ideal. Even though deemed more quite there are still lots of activities to do and lots to explore. With white washed homes and accommodations surrounding you will find your self right at home.

The Ionian Islands are also Greek Islands which are another favourite with holiday makers. Corfu, Kefalonia and Zakynthos are the most known regions. Corfu has a large young party goers reputation and Kefalonia and Zakynthos have a general family feel with stunning beaches and lifestyle atmosphere. Also offering a wide range of self catering accommodation to suit everyone. Back To Top