Villas In Secret Valley Resort
Found 6 holiday rentals in Secret Valley Resort.
Cyprus
>
Paphos District
>
Secret Valley Resort
>
Ha Potami Phase B
> Secret Valley Resort
Villa Adelphos is a spacious 3 Bedroom Villa, the Master Bedroom has ensuite and balcony. Private Pool set in lovely garden, with views to the mountains and sea. 2 famous Golf Courses within 5 mins drive. Beach 2 mins drive and 10mins from airport
Cyprus
>
Paphos District
>
Secret Valley Resort
> Kouklia
Villa with Sky TV & Internet, Peaceful Hillside Location with Breathtaking Sea and Countryside Views Fully Air-conditioned, Private Pool, 5 Mins to Kouklia Village a Beach. 15 Mins to Paphos/Pissouri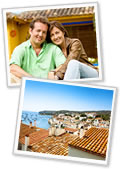 Advertise your property on this page
Be the first property to be listed on this page - instant online activation.
Click here to register >
Testimonial
"I've just got my first booking through Alpha Holiday Lettings. I really like this site - it has big photos, is clear, easy to use and Tom is very helpful. I look forward to many more bookings with you!"
Maureen McCowen, Property 11214