Cottages In Hayle
Found 1 holiday rentals in Hayle.
England
>
West Country
>
Cornwall
>
St Ives
>
Hayle
> Fraddam
Original 19th century farm buildings, in west Cornwall, which have been converted into two semi-detached properties surrounded by lovely gardens. The barns have been beautifully decorated and equipped but still have lots of character.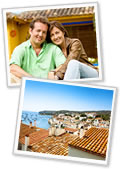 Advertise your property on this page
Be the first property to be listed on this page - instant online activation.
Click here to register >
Testimonial
"I've just got my first booking through Alpha Holiday Lettings. I really like this site - it has big photos, is clear, easy to use and Tom is very helpful. I look forward to many more bookings with you!"
Maureen McCowen, Property 11214