Holiday Apartments & Villas In Denia, Costa Blanca
Located on the north east Costa Blanca coast, Denia is one of the most attractive locations in this prime touristic area of Spain - boasting the perfect holiday setting with warm weather, clean beaches and a friendly atmosphere.

On top of its well acclaimed beaches, Denia also has many other sightseeing opportunities and attractions. With something everyone will love, Denia has a diverse selection of different activities including wine tasting, theme parks, horse riding, diving, wonderful architecture, music, photography and much more. For lovers of shopping, the beautiful "Calle de Marques de Campo" is the city's main thoroughfare with many shops and restaurants to your heart's content. Staying in holiday apartments and villas in Denia is the best way to experience the city and what the Costa Blanca has to offer. Read more
Found 3 holiday rentals in Denia.
Spain
>
Costa Blanca / Valencia
>
Alicante Province
>
Denia
>
Pego
This brand new modern ground floor garden apartment has been equipped to the highest standard with all the equipment a family will need for a fantastic holiday. Just a short distance from the Beach and walking distance to the Town.
Getting to Denia
Alicante airport is the local servicing airport to this area. Transfer from Alicante airport into Denia is approximately 1 hour 15 mins via car or coach. Flight time into Alicante airport from most UK airports is just over 2hours 30mins. Back To Top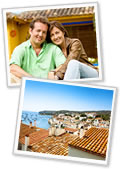 Advertise your property on this page
Be the first property to be listed on this page - instant online activation.
Click here to register >
Testimonial
"I've just got my first booking through Alpha Holiday Lettings. I really like this site - it has big photos, is clear, easy to use and Tom is very helpful. I look forward to many more bookings with you!"
Maureen McCowen, Property 11214