Villas In Illa de Arousa
Found 2 holiday rentals in Illa de Arousa.
Spain
>
Galicia
>
Pontevedra
>
Illa de Arousa
New apartment, beautiful and modern. Very well equipped and placed beside the see with amazing views over the Ria de Arousa in a compound with private swimming pool and parking. Surrounded by forest and beaches just in front in an island
Spain
>
Galicia
>
Pontevedra
>
Illa de Arousa
Apartment very calm placed over the see with very beautifull view over the Bay. Close to the old village and at very few minutes from the beaches of fine sand . Exterior balcony in front of the see. In a close ans safe compound with swiming pool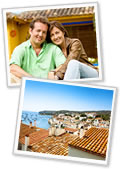 Advertise your property on this page
Be the first property to be listed on this page - instant online activation.
Click here to register >
Testimonial
"I've just got my first booking through Alpha Holiday Lettings. I really like this site - it has big photos, is clear, easy to use and Tom is very helpful. I look forward to many more bookings with you!"
Maureen McCowen, Property 11214