Villas In Montego Bay
Found 2 holiday rentals in Montego Bay.
Jamaica
>
North Jamaica Coast
>
Montego Bay
> ISLAND WIDE
We are a UNIQUE service that focuses only on Jamaica vacations. We also focus on supporting local Jamaican business rather than large all-inclusive resorts. Do Jamaica Your Way offers not only accommodations in fabulous local guest houses, villas
Jamaica
>
North Jamaica Coast
>
Montego Bay
> Montego Bay
If you are planning on coming to Jamaica, Paradise Palms Jamaica Villa is a reasonably priced self catering holiday home rental accommodation where you can come to relax and unwind. Come enjoy a piece of paradise in the city of Montego Bay, Jamaica.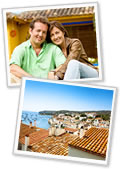 Advertise your property on this page
Be the first property to be listed on this page - instant online activation.
Click here to register >
Testimonial
"I've just got my first booking through Alpha Holiday Lettings. I really like this site - it has big photos, is clear, easy to use and Tom is very helpful. I look forward to many more bookings with you!"
Maureen McCowen, Property 11214