Villas In Duquesa Village
Found 1 holiday rentals in Duquesa Village.
Spain
>
Costa del Sol / Malaga
>
Duquesa
>
Duquesa Village
Beautifully appointed luxury 2 bedroom, 2 bathroom apartment with views over one of the 5 on-site shared pools from private sun terrace. Marble floors, jacuzzi bath, air-conditioning, UK SKY TV, DVD/CD, fully-fitted kitchen. All the comforts of home!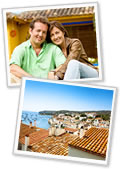 Advertise your property on this page
Be the first property to be listed on this page - instant online activation.
Click here to register >
Testimonial
"I've just got my first booking through Alpha Holiday Lettings. I really like this site - it has big photos, is clear, easy to use and Tom is very helpful. I look forward to many more bookings with you!"
Maureen McCowen, Property 11214