Villas In Cazillac
Found 2 holiday rentals in Cazillac.
France
>
Midi-Pyrenees
>
Lot
>
Martel
>
Cazillac
A delightful characterful gite in the countryside with lovely views over farmland, Gite Diane is ideal for a romantic get-away or for a family of four. It is not suitable for very small children.
France
>
Midi-Pyrenees
>
Lot
>
Martel
>
Cazillac
Le Segala offers an ideal holiday home where you can relax and chill out, or take in all this area has to offer from medieval towns to the River Dordogne, walking, birdwatching, canoeing, fishing and more! Sleeps up to 8. Private swimming pool.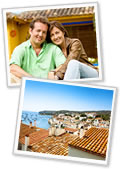 Advertise your property on this page
Be the first property to be listed on this page - instant online activation.
Click here to register >
Testimonial
"I've just got my first booking through Alpha Holiday Lettings. I really like this site - it has big photos, is clear, easy to use and Tom is very helpful. I look forward to many more bookings with you!"
Maureen McCowen, Property 11214