Villas In Castelmoron sur Lot
Found 2 holiday rentals in Castelmoron sur Lot.
France
>
Aquitaine / Dordogne
>
Lot et Garonne
>
Castelmoron sur Lot
> Montpezat D'Agenais
Peaceful countryside location, near to the town of Villeneuve sur Lot. New for 2008 the gite is equipped to a high standard and is ideal for relaxed family holidays. Walking and cycling routes around the area for novices and experienced people.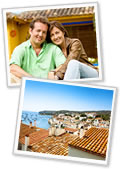 Advertise your property on this page
Be the first property to be listed on this page - instant online activation.
Click here to register >
Testimonial
"I've just got my first booking through Alpha Holiday Lettings. I really like this site - it has big photos, is clear, easy to use and Tom is very helpful. I look forward to many more bookings with you!"
Maureen McCowen, Property 11214